Welcome to my Rattie pages!

Please click on a link to take you to each page.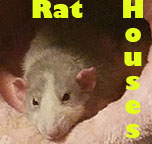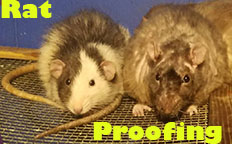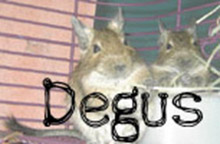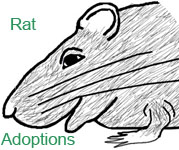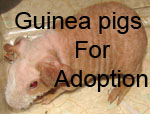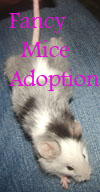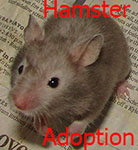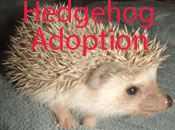 Please click on a picture to take you to each page

80stoysale.com HOME


This page is to show off my Rodent -Rat, Mice & Hamster collectibles!

These items are not for sale and are from my own personal collection.
Rats:

Beware of attack rats metal sign.




"Ratties make great pets sticker."




These are Russian hand blown glass rat figures.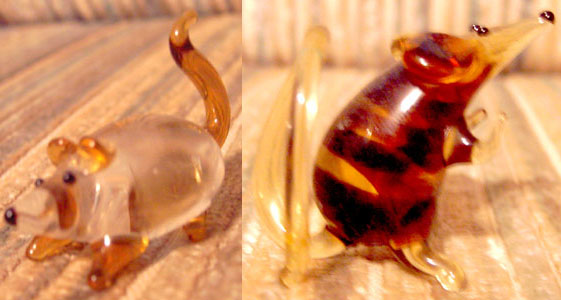 Schleich mouse & rat figures.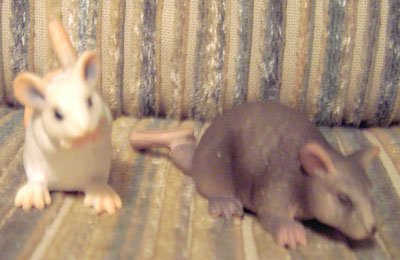 Rubber rat toy figures.




Small rat charm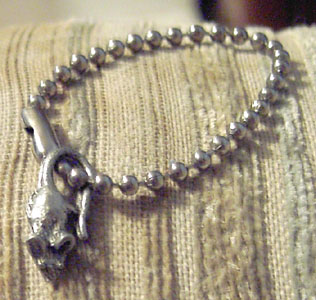 3 custom made rat charms -made by Jagwear jewelry. Hairless rat, Sid, Agouti rat, Scruffy & Black & white hooded rat, Starlite.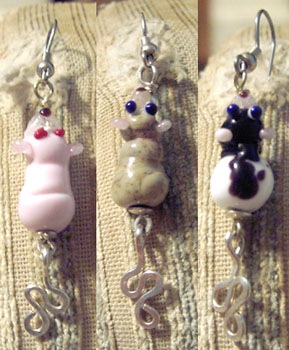 Large rat plush. Made by "Chosun International Inc."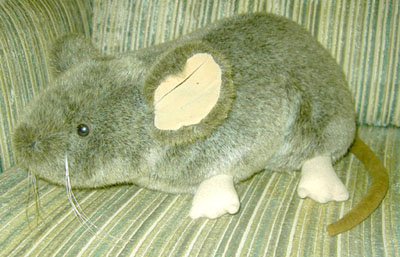 Ty beanie babies, Year of the rat, Cheezer & Tiptoe.




Small gold rat pin with red jewel eyes.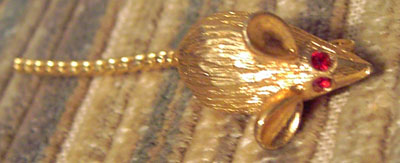 Two Splinter figures from Teenage Mutant Ninja Turtles.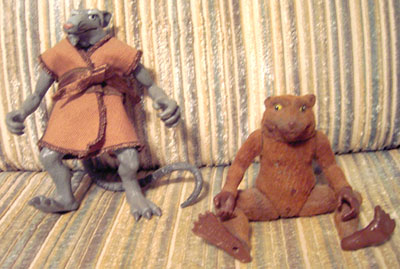 Rattrap Beast Wars Transformer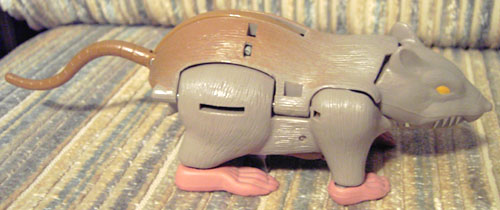 Rattrap Beast wars Transmetal Transformers.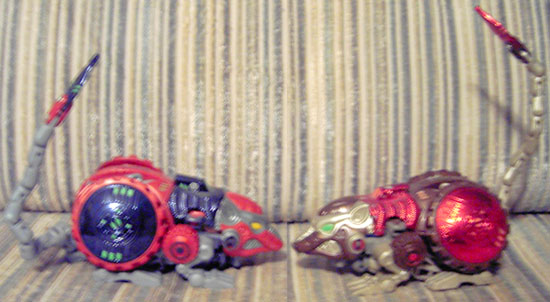 Rattrap Beast Machines Transformer.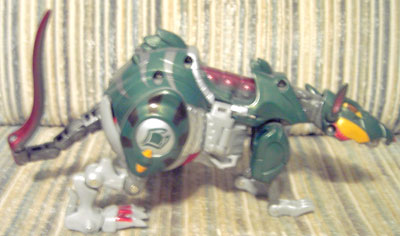 Rat rubber figure with tongue sticking out.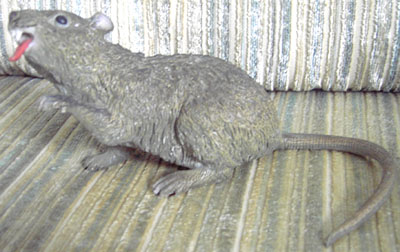 Rat car.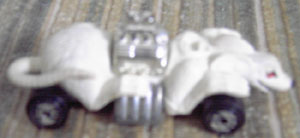 Small rat finger puppet made by "Folkmanis".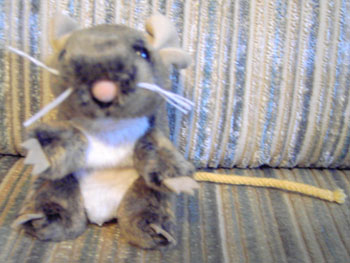 White & Brown rat finger puppets made by "Folkmanis".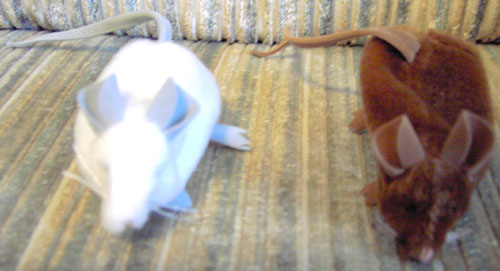 Littlest Pet Shop Gerbil, Hamsters & Mouse figures.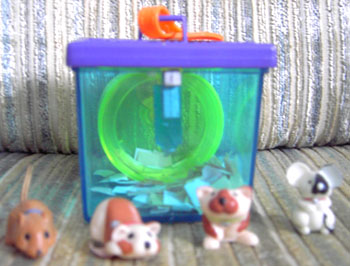 Littlest Pet Shop Gerbils, Guinea pig & mice with tube house set.




Pawpals Rat beanie plush.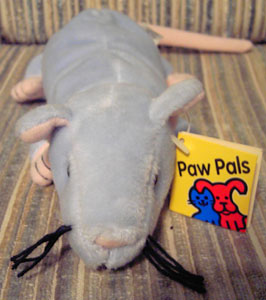 Screen printed rat shirt i made.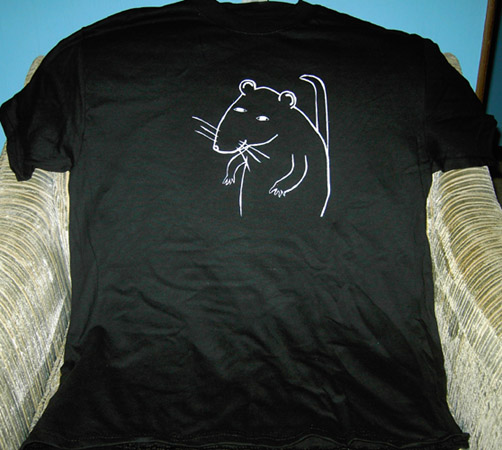 White with red hearts & red with white hearts rubber rat "Love rats" figures made by "Accoutrements".




Choco Q collectible Japanese rat figures, Long haired rat figure & Field mouse figure.




Stone rat bead charm or incense burner.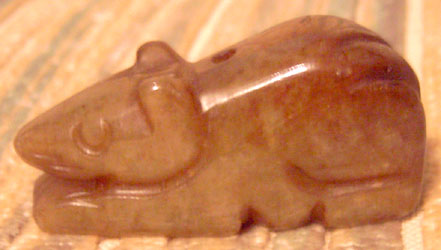 Bear in the big blue house Tutter plush.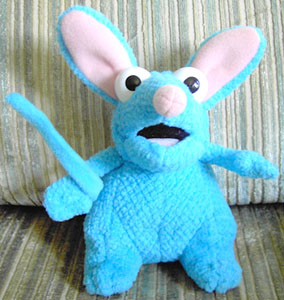 Kangaroo Rat Plush made by "K & M International Inc.".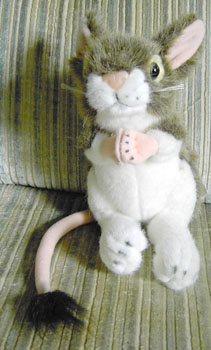 Kangaroo rat plush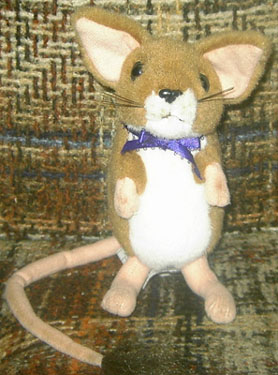 Japanese Choco Q Jerboa figure.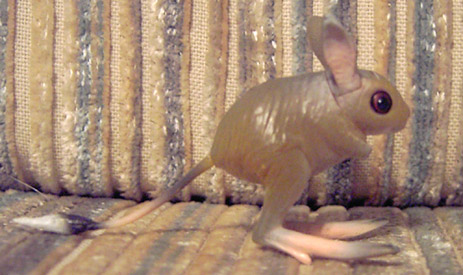 Japanese Choco Q Kangaroo Rat figure.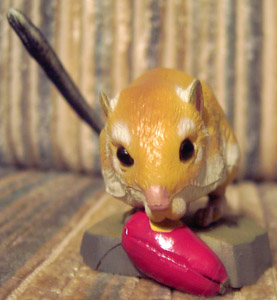 Folkmanis Hooded rat puppet plush.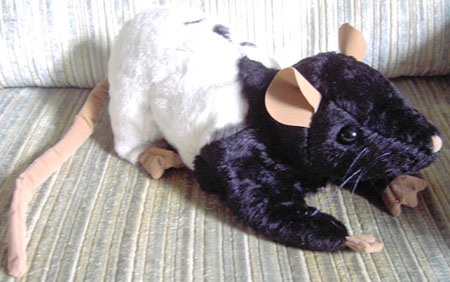 White & Black rubber rats (Came on key chains, but to me -a rat lover it looked like the rats were choking and i had to set them free.)




In Loving Memory of Cheeba Monkey July 15, 1996 - Feb. 11, 1998. (Shirt i screen printed)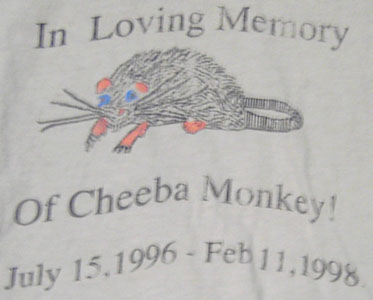 White molded clay rat i made.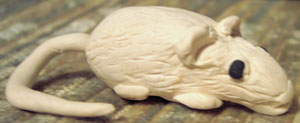 Starlite's clay footprints.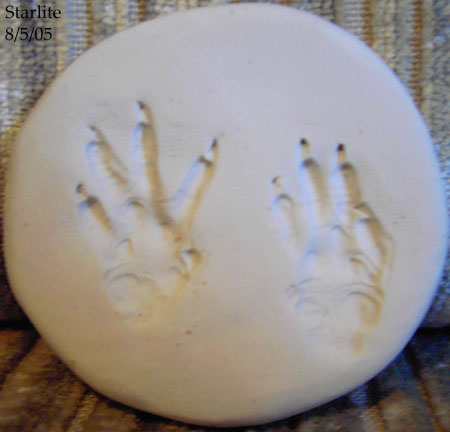 Some clay Rat footprints i made of my rats.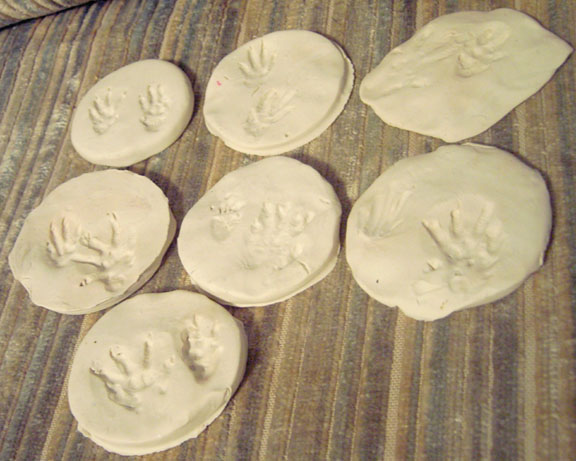 Silver rat figures.



Green ceramic Rat figure.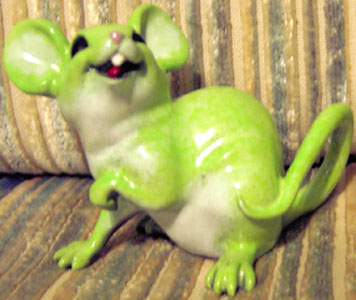 Folktails Folkmanis Rat puppet.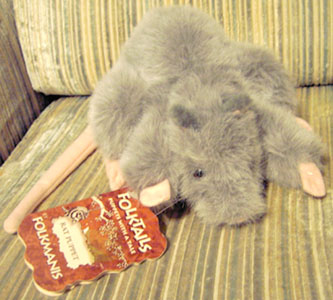 Ikea Rat Plush.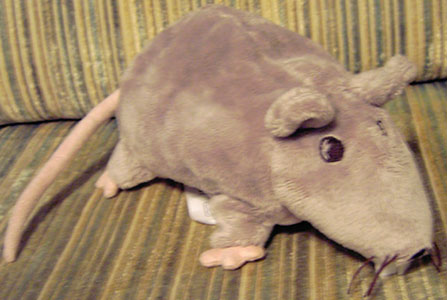 Ikea Rat animal pillow.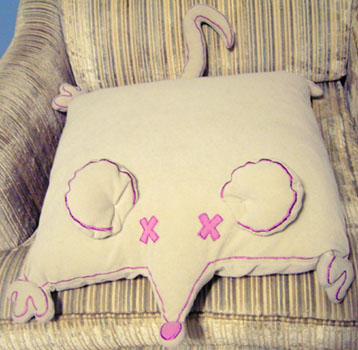 Maurice's secret recipe Sunthing food mascot black rat with white stomach, glasses and red sweater plush.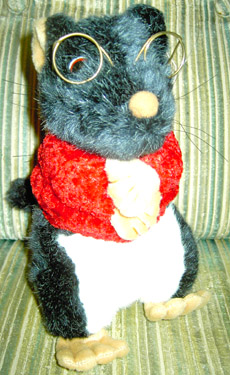 Black rat squeak dog toy plush.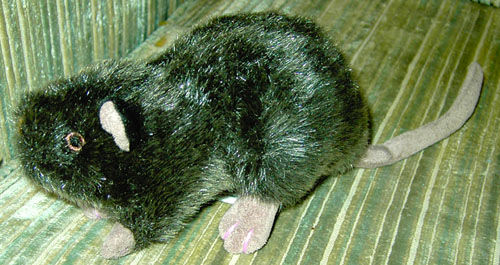 Small black rat rubber figure & Large black rat rubber figure.




Large white & Black rubber rat figures.




Detailed jeweled rat trinket box -top lifts off.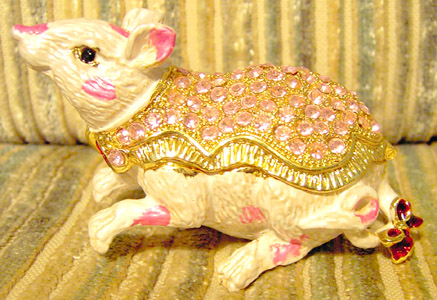 Ratatouille Remy, Django, Emile & git figures.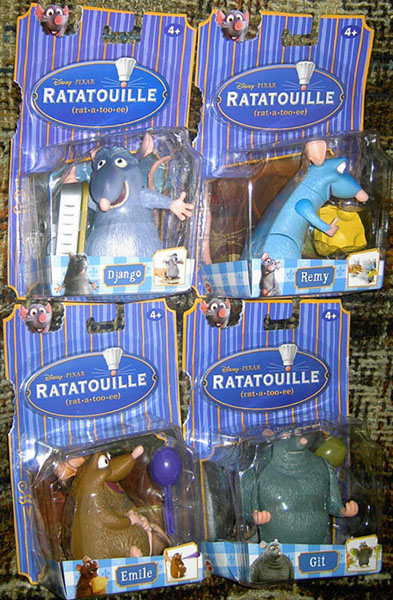 Ratatouille Pez dispenser.




Rat shaped Candle.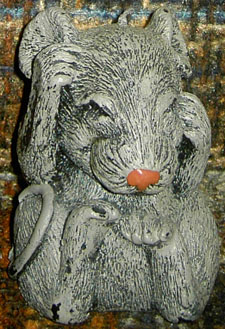 "Cuddlekins" Rat plush.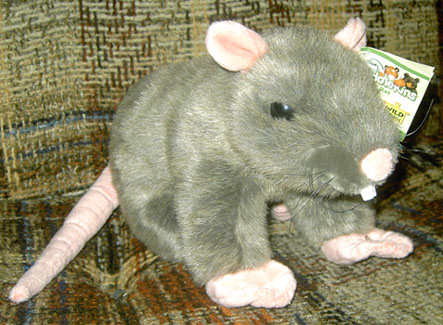 "Wendy's" Rat plush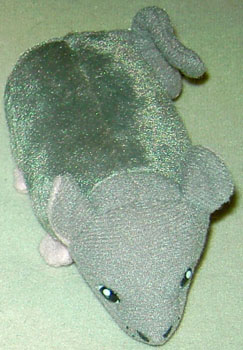 Rat scarf (Handmade)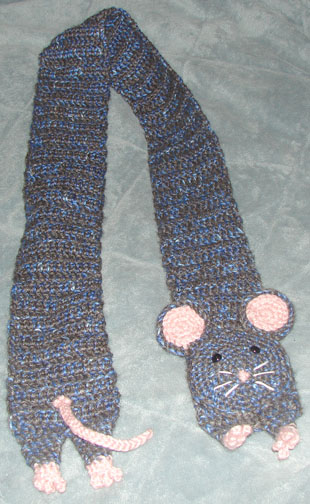 Mice:

Small Smithsonian's Deer mouse plush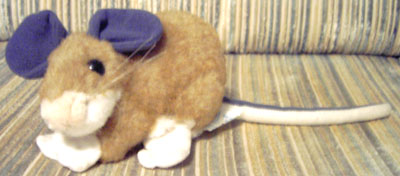 Small ceramic mouse figure.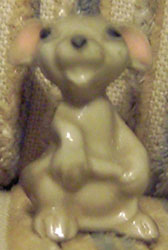 2 mice sitting on a log figure "Quarry Critters, Mocha and Mynah."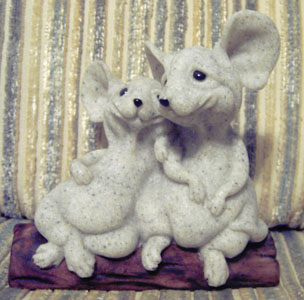 2 mice beanie plush.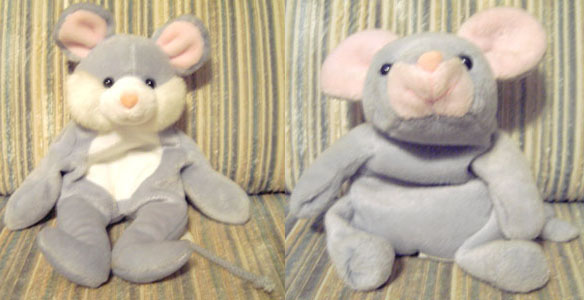 Puffkins mouse.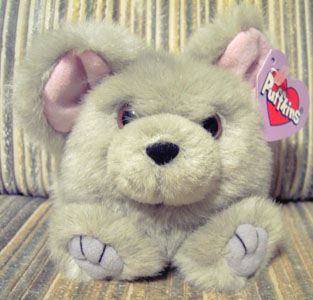 Ty poseable Mouse.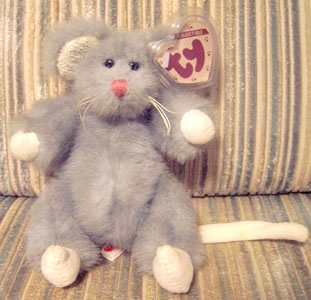 Mouse Key chain beanie plush.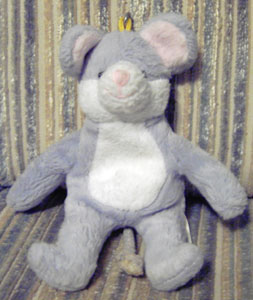 Ty Louie mouse from Garfield movie beanie baby.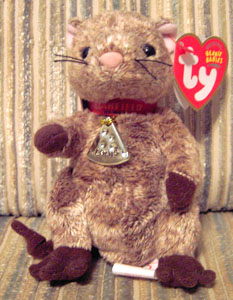 Small mouse plush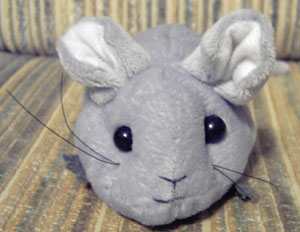 Full o Beans mouse beanie plush.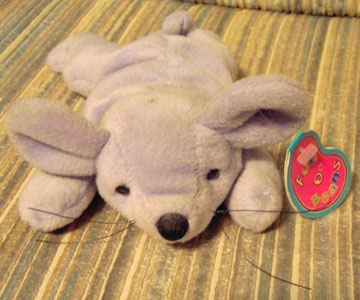 Littlest Pet shop mouse with cheese figure.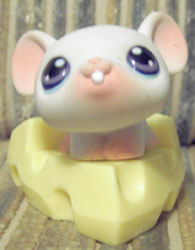 Once upon a forest Abilgail mouse figure.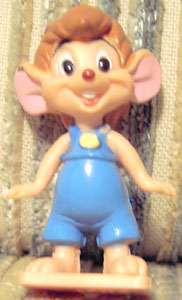 Computer bug Terminator mouse figure.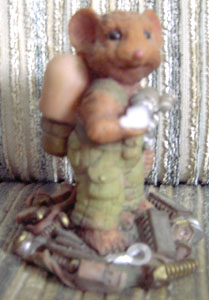 Danger Mouse plush.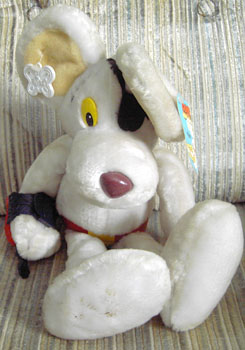 Small Flocked mouse figure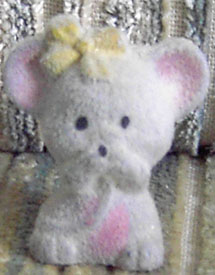 Sylvanian Flocked mouse figure.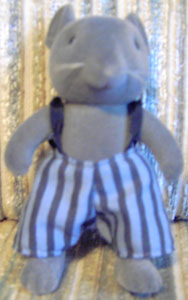 Mice crawling on a pipe figure.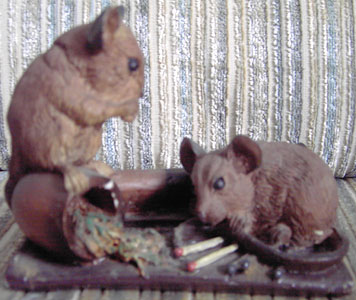 Sand filled mouse figure.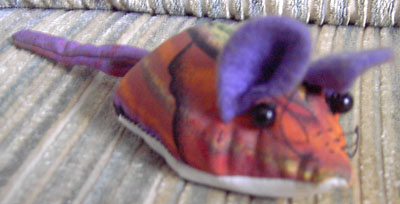 Furryville small mouse figure.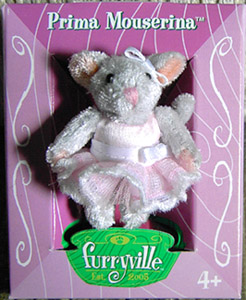 Mouse Folkmanis Plush Puppet.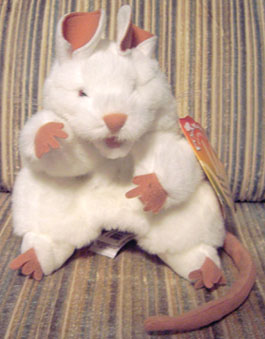 Wonder mouse (1930's old toy)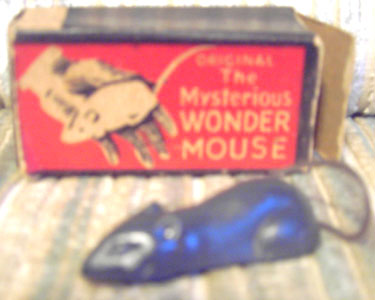 Small beanie plush mouse.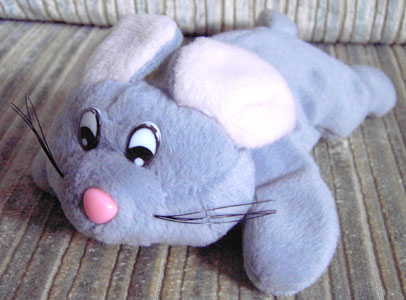 Mouse slippers.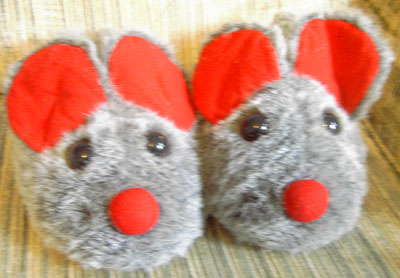 Adult mouse w/ baby mouse sleeping in an orange.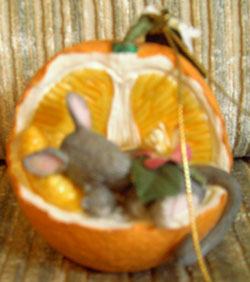 Choco Q collectible Japanese figures, Panda Mouse & Mouse Pet series figures.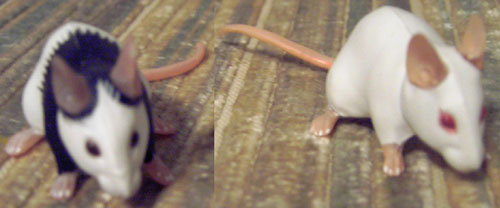 Fuzzy Kernal Mouse plush made by "Douglas."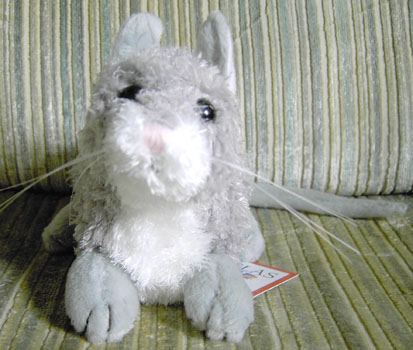 Snowden Mouse plush.



Pewter Mouse figure holding his tail & Pewter mouse sleeping in hammock.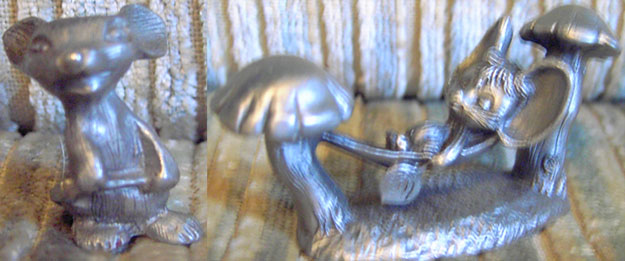 Pewter Mouse figure with mice coming out of the holes in cheese, Mouse with hat on holding cheese, Mouse figure sitting on top of a Mushroom.




Ty Cheddar Mouse beanie.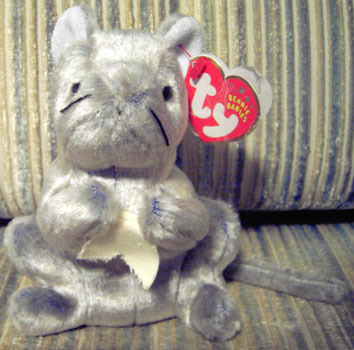 Japanese Choco Q Dormouse figure.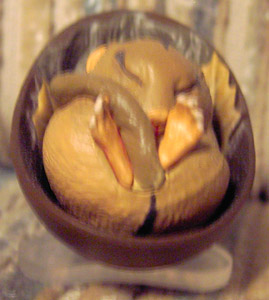 Japanese Choco Q Mouse grooming figure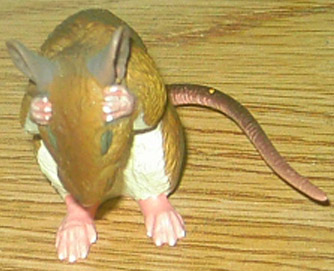 Flocked mouse pen topper figure.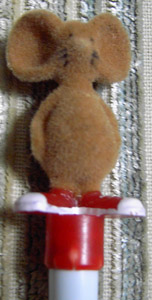 Angelina Ballerina poseable plush.
Alice Poseable plush.
Anya poseable plush.
Princess Sophie poseable plush.
Princess Phoebe poseable plush.
Princess Valentine poseable plush
Cousin Henry poseable plush.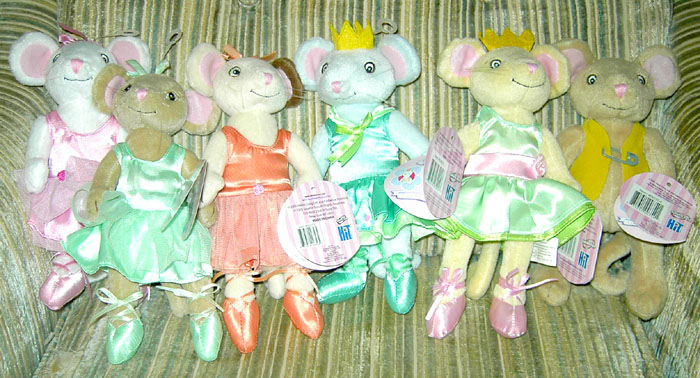 Angelina Ballerina, Princess Phoebe, Princess Valentine, Anya, Alice & Henry poseable figures.




"Charming Tails, Life's a picnic with you" Mouse & Rabbit having a picnic figurine.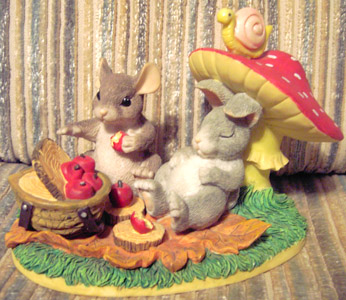 "Charming Tails" Mouse with mushrooms picture frame.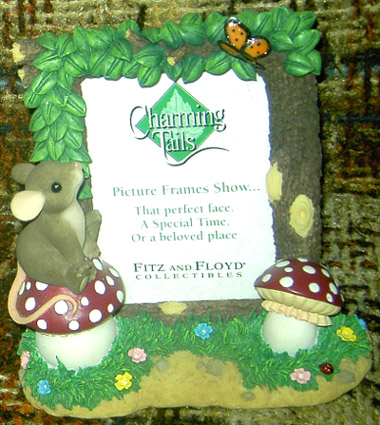 Natural Monuments of Japan Spiny rat/mouse figure.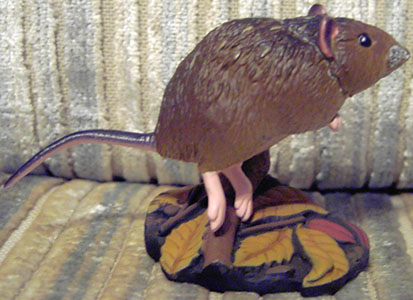 "Bath and Body works Noelle" Mouse plush.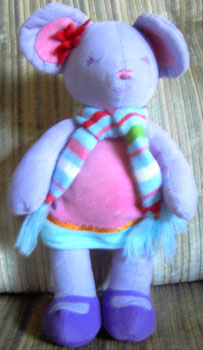 3 Rescuers figures.




Rescuers Bianca Figure.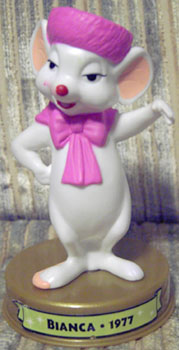 Small gray mouse plush with green scarf, vibrates when string with spike is pulled.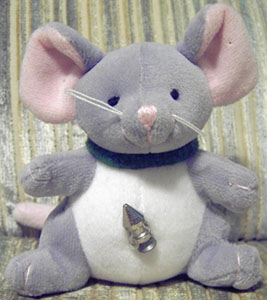 Japanese Dormouse Natural monuments figure.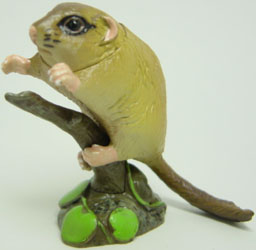 Littlest Pet Shop mouse plush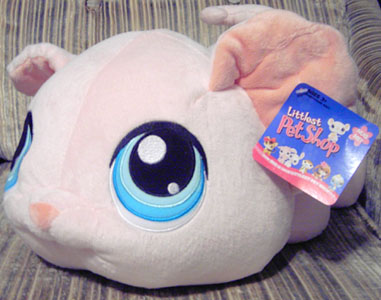 Littlest Pet shop Merry mice set.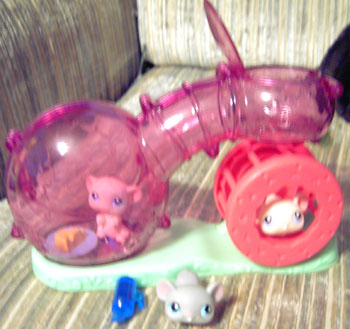 Littlest Pet shop Valentines edition set.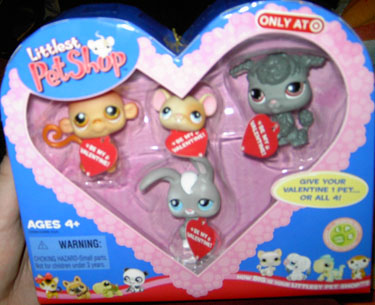 Family of 4 Flocked mice figures.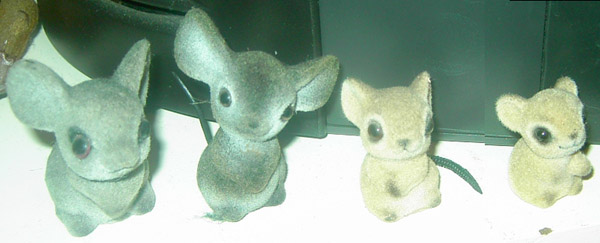 Mouse Quarry critter figure.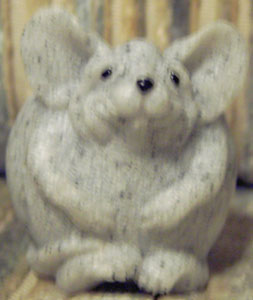 Gray mouse plush with long legs & arms.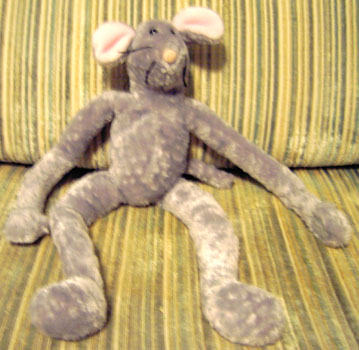 Pom Pom Mice & Rats i made.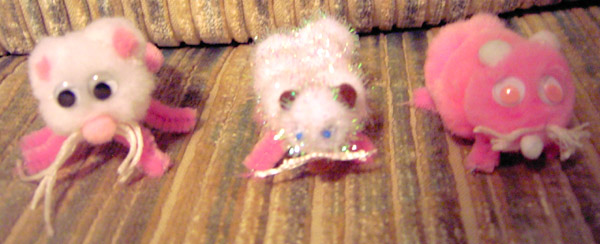 Pom Pom Mice & Rats i made.




Pom Pom animals -Tiger, Hamster & Skunk.




Pom Pom Hamster i made.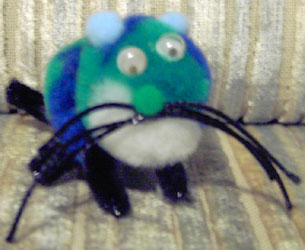 Pom Pom Mice & Rats i made.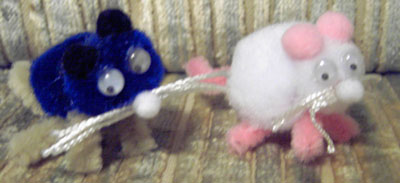 Pom Pom animals -Attempt at a Degu & a rat.




Pom Pom Black rat & White & Black hooded rat.




Pom Pom blue rat with white face & Brown & Black rat.




Pom Pom Pink eyed white rat & white rat with black on back.




Pom Pom Black eyed white rat & Black rat.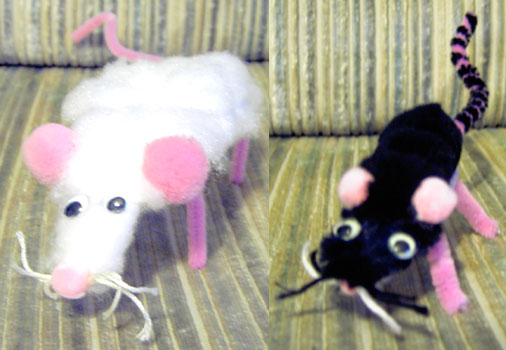 Charming Tails mouse on chess board figure.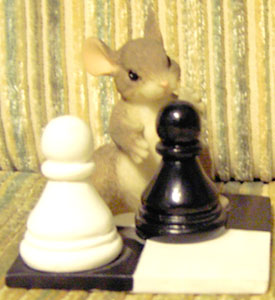 Hansa Elephant mouse sitting plush.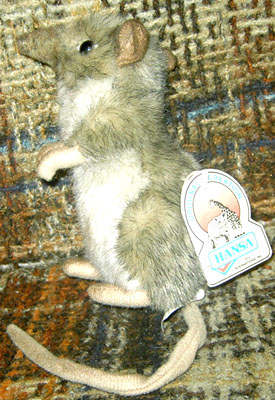 If you give a mouse a cookie Mouse plush (Kohl's special edition.)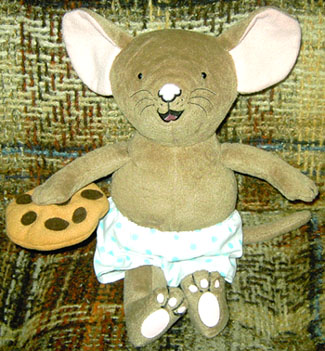 Gray mouse plush with scarf.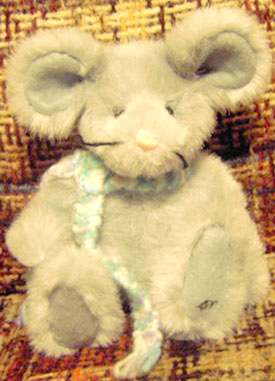 Brown mouse plush with string arms & legs. (Target candy x-mas mouse.)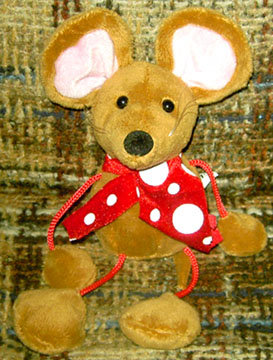 White mouse puppet.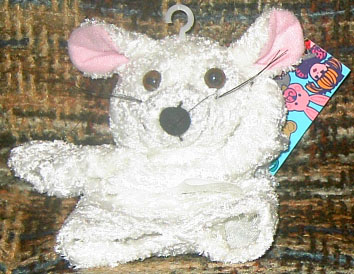 Fuzzy purple Mouse coin purse.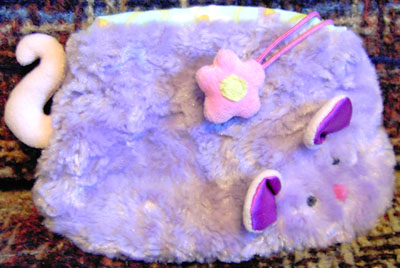 Sherratt & Simpson field mouse figures.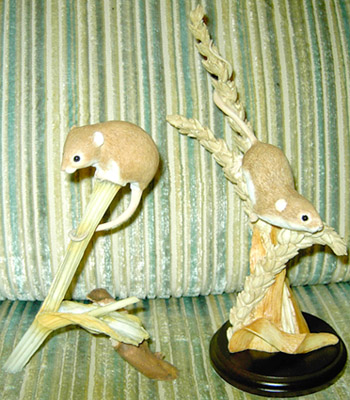 Field mouse on tree & foliage Sherratt & Simpson figure.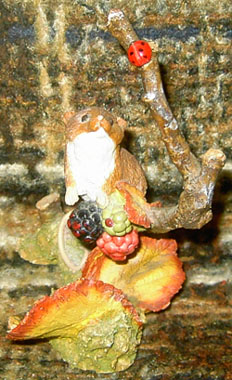 I was eating a Chocolate bar only to find these rat footprints in it from my ratties.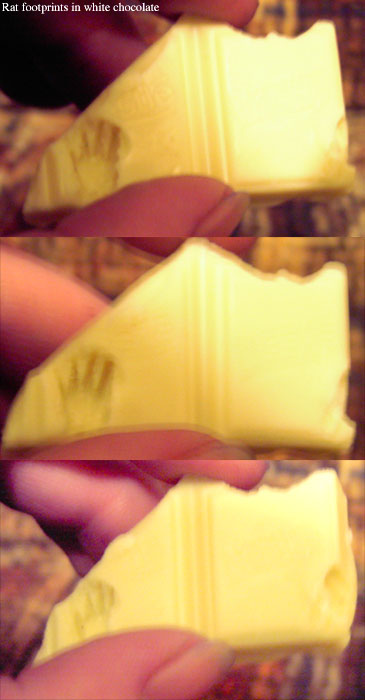 Harmony Kingdom Alexandre Mouse tangled in yarn small container figure.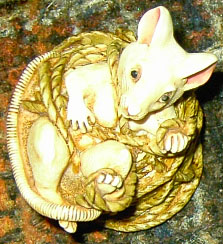 "Country Artists" mouse sleeping on apple core in the grass on platform figure.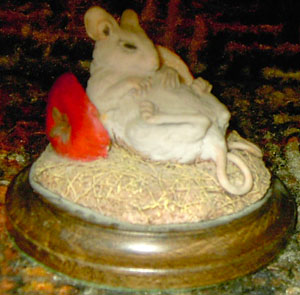 Small Flocked Purple mouse, with glitter muzzle & ears Keychain.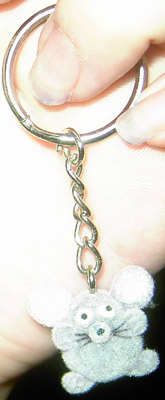 Country Artists" Mouse sleeping on a bed of berries.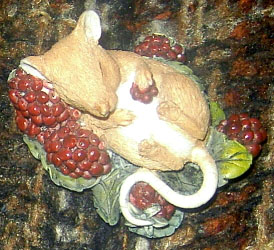 Country Artists" Mouse on tree branch with berries on platform figure.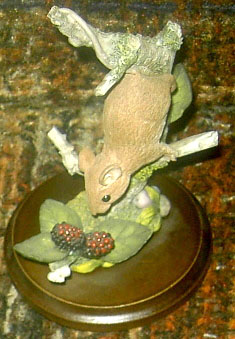 Hamsters:

Hamtaro plush collection. Panda, Howdy, Jingle, Stan, Maxwell, Oxnard, Cappy, Snoozer, Bijou, Pashmina, Penelope & Hamtaro small plush. Panda, Oxnard & Hamtaro banks. Hamtaro medium plush. Hamtaro puppet. Hamtaro small plush key chain. Boss on cheesecake Sega promo plush. Bijou & Hamtaro Charms.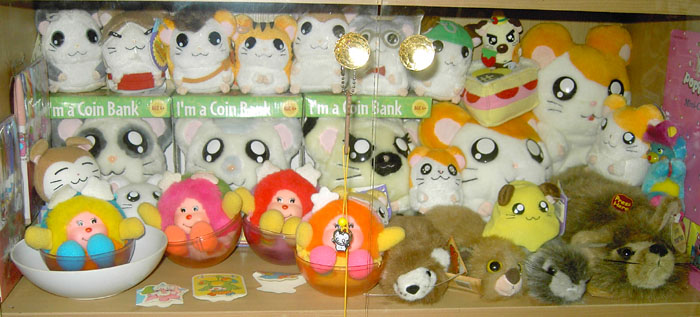 Hamtaro figures collection. Bijou, Hamtaro & Pashmina scented flocked figures. Hamtaro, Dexter, Pashmina, Bijou, Howdy & Penelope small key chain figures. Gummi hamster house candy. Burger King Panda, Elder ham, Boss, Bijou, Hamtaro, Oxnard & Cappy figures. Hamtaro & Bijou patch. Hamtaro hideaway small play set. Bijou's bedroom play set. Hamtaro house play set. 12 Hamtaro in costume figures. 8 mini figures in acorn figures. Hamtaro pin, Bijou pin & 12 Hamtaro characters pin. 10 glow in the dark character figures.
Roughly 140 Hamtaro figures total.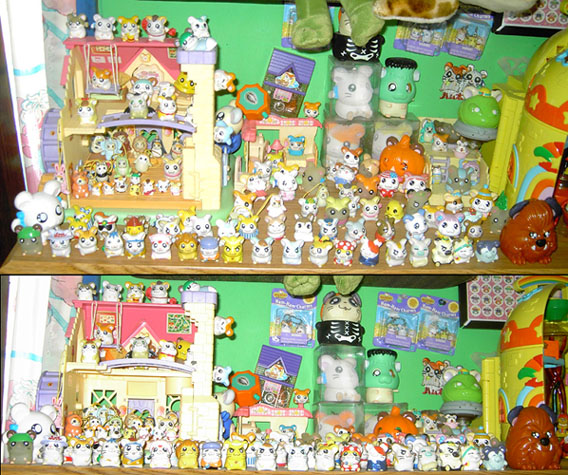 Hamtaro Japanese imported picture with frame.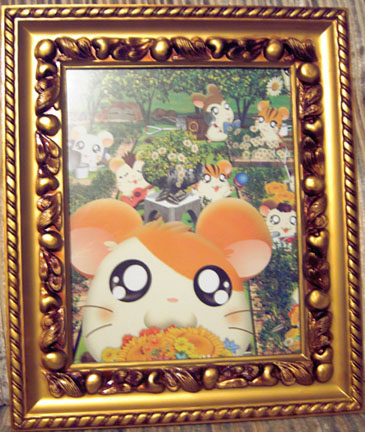 Hamtaro Oxnard Japanese import bank plush.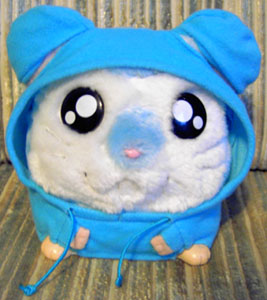 Hamtaro figure on running wheel. (Imported from Japan.)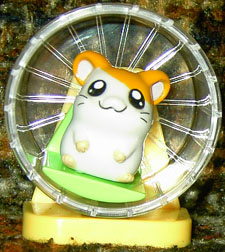 Pawpals Hamster plush & Beebees Hamster plush with real cheek pouches!.




Ty Pellet Hamster beanie baby.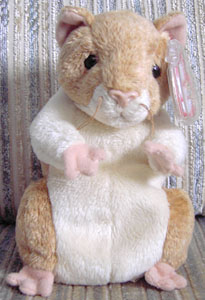 Japanese Flocked hamster figures. Hamster hiding in shell, hamster with fence, hamster yawning with seeds, hamster hiding under book.




Japanese Hamster stickers -these stickers came with the above flocked hamster figures.




Schleich Hamster rubber figure.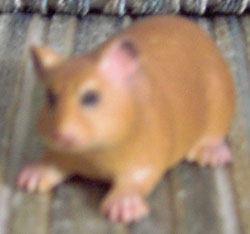 "Hamster Lunch" Japanese collectible figures, Golden Hamster, Dzungarian Hamster, Golden hamster & Campbell Hamster.




"Hamster Lunch" Japanese collectible figure, Golden Hamster, Roborovski Hamster, Black bellied Hamster & Golden Hamster.




Pawpals Hamilton Hamster beanie plush.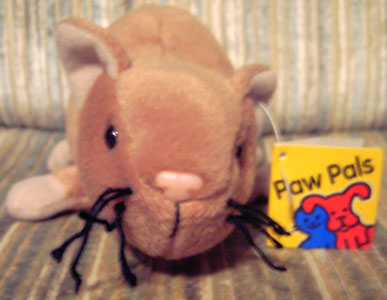 Schleich Hedgehog & Hamster figures.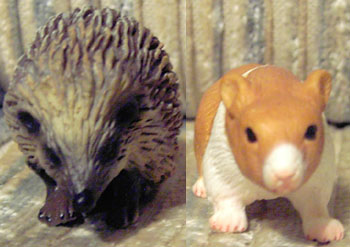 The Leonardo Collection Feeding time Hamster figure with apple.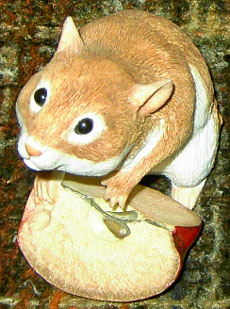 "Barbie" Wind up Hamsters.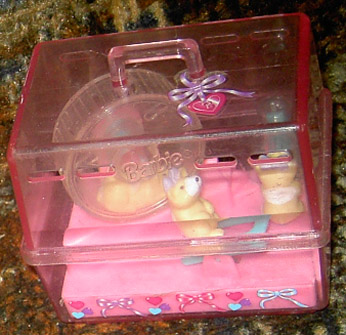 Misc. Rodents:


Japanese Choco Q mole figure.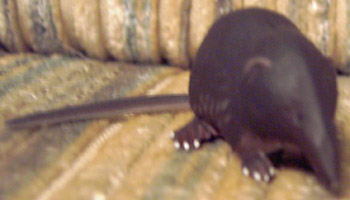 Choco Q collectible Japanese Himalayan shrew figure.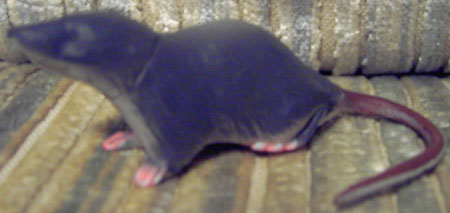 Birdtales 2 collectible Japanese Himalayan water shrew figure.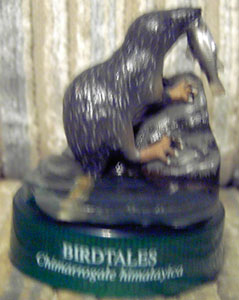 Rodent ?Squirrel? with ribbon wrapped around it.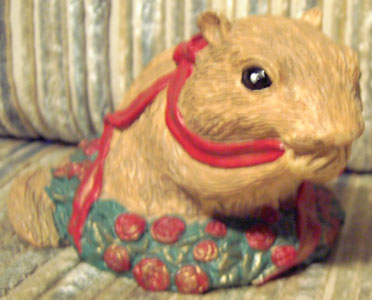 Ty Beanie Baby Stony Pika.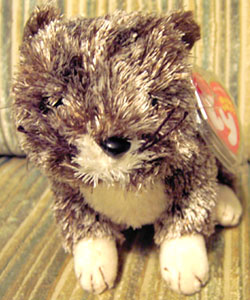 Hand Blown glass squirrel.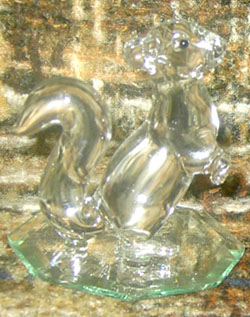 Hemp yarn squirrel (handmade -purchased at Renaissance fair.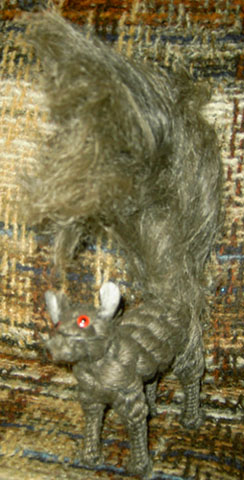 Slow Loris small plush.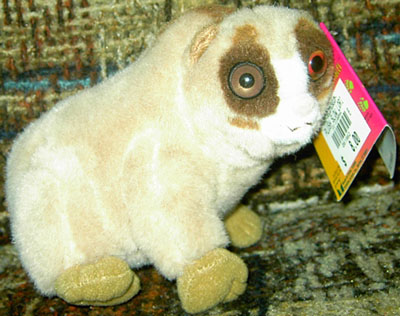 Kinkajou plush.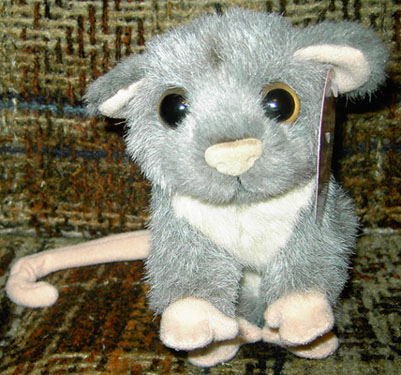 Dakin beanie animal.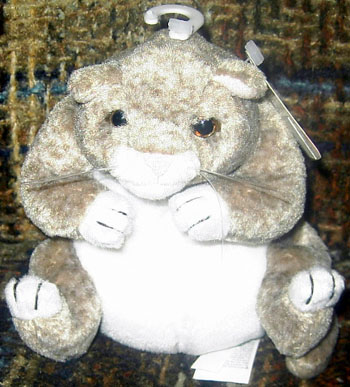 More pictures to come when i get new items -or find ones around the house i forgot to add.