DISCO'S PRINTS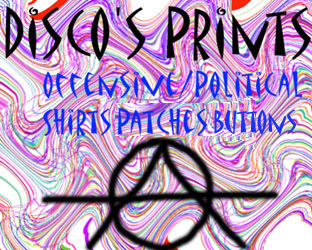 Disco's Prints is a home based Company that specializes in
Screen printing Shirts & patches.
We also make Buttons!
Our designs are mostly Offensive, Political, Stoner, Anti Government, Anti slogans and some other designs as well.
All of our products have a limited number made so everyone can stay the way they are meant to be, Individuals.
Who wants to see someone else with the same item you have?
Well, we dont! :)
Our Policies
To place an order, simply email us with the item name, item number (If available) and the quanity you desire.
To make the ordering process faster, Please include your address when ordering so we can accuratly calculate the shipping costs.
I ship through the United States Post Office. (USPS)
All items, unless special ordered are shipped within 3 days of recieving payment.
All payments must be in U.S. funds.
International orders are welcome.

I accept payments of:

Money orders
U.S. Cash
U.S. Checks are acceptable as long as they don't bounce. (A $5 fee will be charged for all bounced checks.)
www.Paypal.com
Email orders or inquiries to:
Email: DiscoPanth@earthlink.net
Thank you!
Follow the links below to see the merchandise we have for sale.